July 05, 2022
Volunteers are essential to Good Grief! As we prepare for the 2022-2023 program season, we anticipate the need for grief support will be greater than ever. Our ability to meet that need relies on trained volunteer facilitators! 
We welcome all adults and encourage those from diverse backgrounds to join us in this unique, and important, volunteer opportunity. No previous experience is necessary. Please note that completion of all three sessions is necessary to become a support group facilitator.
GGNWO Volunteer Training

Saturday, August 13th  8:00 a.m. - 1:00 p.m. (session 1 of 3)
Sunday, August 14th  8:00 a.m. - 1:00 p.m. (session 2 of 3)
Saturday, August 20th 8:00 a.m. - 1:00 pm (session 3 of 3)

If you're ready to take the next step to make a profound difference in the life of a grieving child, please consider attending our upcoming volunteer training course! Call our office at 419.360.4939 or e-mail us to register!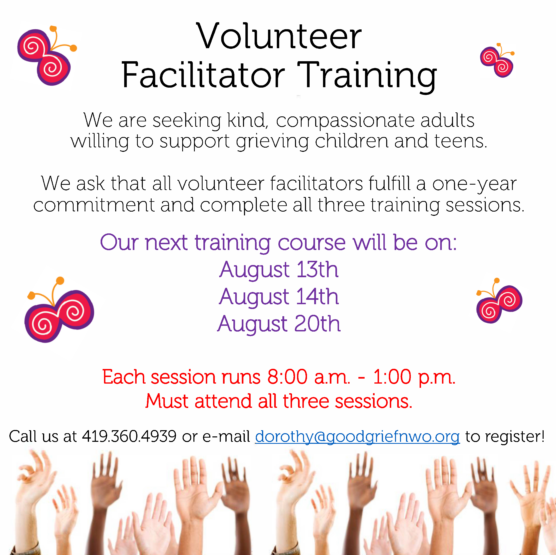 To learn more about our program and other volunteer positions, click here or give us a call at 419.360.4939